"Invention requires two things:

1. The ability to try a lot of experiments, and

2. not having to live with the collateral damage of failed experiments"

AWS cloud CEO, Andy Jassy
Introduction
Nowadays, we are listening to "Cloud Computing" word almost everywhere. The term – Cloud computing is taking the tech world to the next higher level day by day and hence need to learn cloud computing. The main fundamental in IT field of today is that it's never too late to learn the cloud. The demand curve for cloud skills is growing and keep on growing at a rapid pace as the cloud becomes critical to IT and businesses vastly. As per an article published by Forbes this year, the spending on public cloud services is anticipated to grow at a compound annual growth rate of 19.4% from $70B in 2015 to more than $141B in 2019. AWS generated a revenue of $5.44 billion in the first quarter of 2018, a 49% increase year-on-year. With Fortune 500 companies and institutions like NASA, General Electrics, Netflix, IMDb, AirBnB, to name a few extensively using AWS cloud computing services – AWS is the leader in the cloud computing market growing at a breakneck pace.
Lets start with simple words with which we can have actual idea that what they mean.
What is Cloud Computing?
Cloud computing is the set of the resources like – servers, network, storage, processing power and data which lies at any far or nearby location but we can use them from any corner of the world using the internet via a subscription model.
For example: Use electricity from Electric board instead of your private electricity generator
Which means, it is a set of services which you would require in an account to run a business that you will get on rent. You would only have to pay what you use. No commitments.
What is Amazon Web Services (AWS)?
Amazon Web Services (AWS) is a cloud platform which provides all the above services to you, based on your needs and in return, it would charge you what resources you would use.
For example Any electricity board like – Reliance power / PGVCL / Adani power / Mahavitran etc.
As per the official definition, Amazon Web Services (AWS) is a comprehensive, evolving cloud computing platform provided by Amazon. It provides a mix of infrastructure as a service (IaaS), platform as a service (PaaS) and packaged software as a service (SaaS) offerings. (We would see Iaas, PaaS and SaaS in detail in upcoming topics. Please do not bother as of now :-p)
However, there are many of the international companies that we can see near us in day to day life where cloud computing is being used. Few examples are Expedia, Slack, Netflix, Xerox, Pinterest, Instagram, etc.

To be specific, In India, if we consider the companies who are using cloud computing in business then we could probably get these names in our mind at first shot – Tata Motors, ABP News, PayU India, Shaddi.com, Ola, RedBus, Hike, Tata Sky, Paytm, Pepperfry and many more.
However, we have researched and noted down below reasons which would definitely help you to understand why should you pursue your Cloud career.
Reasons why you should learn Cloud Computing – especially AWS:
1. AWS – The Fastest Growing Public Cloud in the World
AWS was officially launched in 2006 and there were around 180,000 developers on the platform by 2007. By 2015, AWS revenue was $6Billion USD per annum and since then revenues have doubled and are growing at an exponential rate.AWS enjoys the advantage of a 7-year head start before facing like-minded competition, and since then the team has never slowed down. AWS is continuously boosting its growth every quarter. AWS expanded by 42% in the third quarter of 2017 which increased to 45% in the fourth quarter and then 49% in the first quarter of 2018. The fastest-growing AWS products used by customers include data-crunching tool Amazon EMR (Elastic MapReduce) growing at a compound annual growth rate of 24 %, network monitoring offering Amazon CloudWatch growing at a compound annual growth rate of 23%, and serverless product AWS Lambda growing at a compound annual growth rate of 18%. Considering AWS' huge lead, if the current trends continue, we are likely to witness remarkable acceleration in AWS growth in future.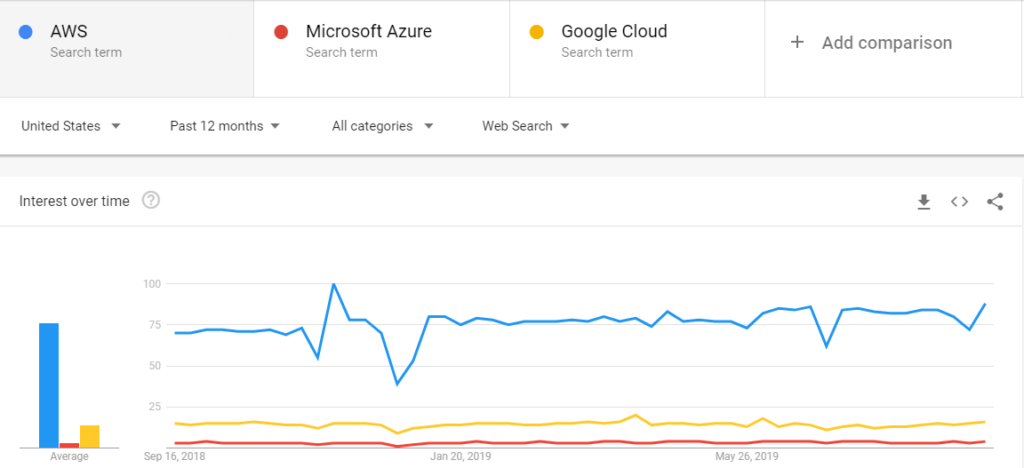 2. AWS Skills on the list of most in-demand skills since 2015
Knowing which way the wind blows and then keeping up with the change in the same direction is the need of the hour. And as of today, the wind seems to be blowing into AWS cloud. As Google trends indicate, organizations are heading for a serious skills shortage around AWS. Professionals yearning for a lucrative career should run in this direction. With more than 350,000 professionals required to fill cloud job roles, there's clearly a huge opportunity for people who can prove their skills. AWS skills are sitting high on the list of most in-demand skills for employers.
Use the search term "Cloud" for a simple full-time jobs search today on Indeed.com and you will see that there are more than 70,000 results. Of these Amazon Web Services (AWS) skills are the most in-demand skills with 25,361 open jobs. 60% of the cloud computing job postings ask for skills related to Amazon Web Services.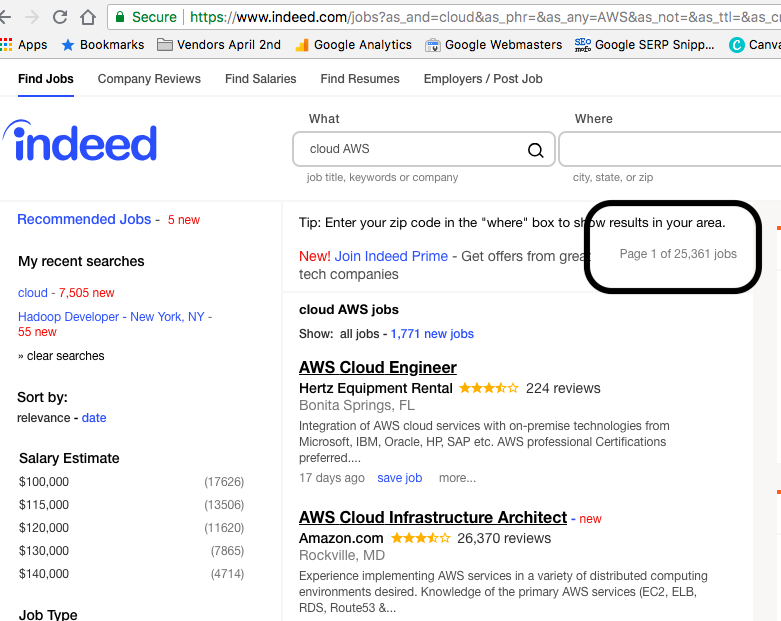 3. Increased Enterprise Cloud Migration to AWS
It is not only small organizations migrating to the cloud, but even commercial enterprises are also migrating to the cloud at a rapid pace. According to a report from McKinsey's Silicon Valley group, 77% companies were dependent on traditional IT infrastructure till 2015 but with large enterprise migrating to cloud-based infrastructure, the number is expected to drop down to 43% in 2018. Organizations migrating their services and applications to the cloud are confronted with multiple challenges and roadblocks. The cloud platforms like AWS, Azure, Google offer several automated features but migration is not one of them. This implies that organizations have to depend on customized, professional services from providers. There is an increasing demand for cloud professionals who can oversee migration projects in a secure and organized manner. This requires professionals to have in-depth knowledge of any chosen cloud platform like AWS. Becoming a certified AWS solutions architect will endow you with the entire process of shifting from an existing on-premise application to AWS cloud.
4. AWS Careers Pay Top Money
AWS Certified Solutions Architects -Associate professionals earn an average salary of $121,292, over $13,000 higher than the average salary of top 15 IT certified professionals. The salaries for AWS skills in premium areas like Austin, San Francisco, Washington, or Boston are 25% higher than usual. According to PayScale, non-architect related AWS cloud jobs garner comparatively lower paychecks over architect jobs. The best-paid positions that can help professionals make the most money from their cloud jobs are –
AWS Enterprise Cloud Architect –$138,051
AWS Senior Cloud Solutions Architect -$132,092
5. Affordable Pricing and Access to Free Tier for Learning AWS (:-p)
For professionals who are new and want to gain hands-on practice on the technology can create an AWS account and access the free tier provided by AWS for a year. The popular AWS free tier services include -Amazon RDS, Elastic load balancing, EC2, S3. Each service does have some limit on its usage without being charged. This is enough for people who want to get started with learning AWS. However, AWS provides a flexible pay-as-you-use approach and beginners if required can use these services according to the utilization of hours and memory.
Summary
The key thing to take your employability to the next level in today's cloud jobs market is to acquire AWS skills and certifications. Professionals who can embrace change as an opportunity instead of looking at upskilling as a hamster wheel are likely to succeed in finding a rewarding AWS opportunity that is evolving and satisfying. If you have any queries or question in your mind, please help yourself by writing a comment here in below section. We will try to answer your queries as early as possible.